Manfred Thierry Mugler & Beyonce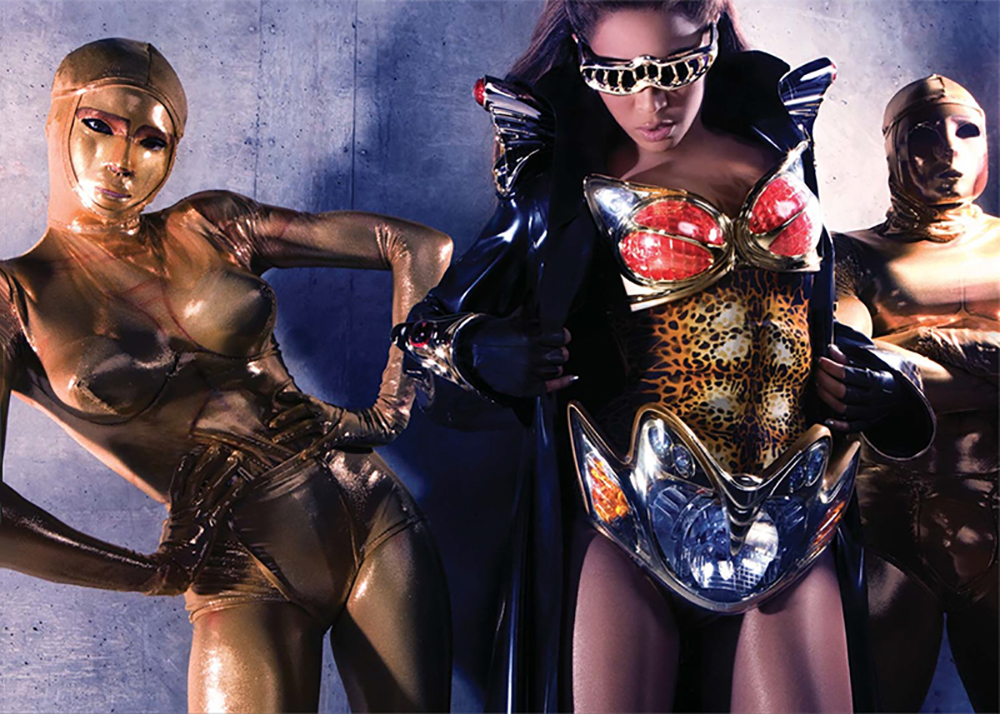 An iconic couturier and fashion revolutionary Manfred Thiery Mugler created his namesake label in 1974 designing ready-to-wear and haute couture garments and dominating the fashion landscape throughout the 1980s and 1990s. A creative polymath Mugler started out as a professional dancer with France's Opera National du Rhin Ballet, studied drama at Paris's Cours Florent. Since he has inhabited multiple worlds as a photographer, director, choreographer, and perfumer, He has conceptualised characters and designed costumes for Cirque du Soleil; created the Mugler Follies cabaret in Paris, directed an extra-terrestrial-themed modern ballet, The Wyld—Not of This World (which debuted in 2014 and ran for 500 performances over two years in the world's largest theater in Berlin) and served as a costume creator for Beyonce's, I Am World Tour in (2009) and On The Run II Tour (2018).
Mugler, wrote Vogue in 1992, "is the master of specially made goods. All of his theatrical pieces can actually be ordered if you're willing to pay the price" …  and Beyoncé was. Not only was she photographed in the motorcycle bustier, but she hired the Frenchman to create stage costumes and direct parts of her I Am Sasha Fierce tour. "I was very touched that she asked me," Mugler told The Telegraph, "because she could have asked younger people. But she recognised that I was pretty much at the origin of this moment now about superheroes, the structured silhouette and the extreme silhouette, and she wanted that."
Beyonce became interested in collaborating with the top designer after seeing seminal pieces from his design career first-hand at the Metropolitan Museum of Art Costume Institute's Superheroes: Fashion and Fantasy exhibition in New York in 2008. After subsequently studying the works in the Thierry Mugler archives in Paris, Beyonce selected pieces to serve as inspiration for her show, including the iconic 1997 Harley-Davidson bustier which were adapted for her stage shows.
"Celebrities I work with are usually super women and men who transcend the day-to-day routine and are open to speaking to anyone and not only to the fashion world. I like to enhance their natural skills, make them discover new facets of themselves and give them strength to face the world,
Beyonce is a 'stage beast,' a super hard-working artist with intuition. She was ready to be 'Muglerized,' and we crossed paths at the right time. 
Sasha Fierce is another aspect of Beyoncé's personality. She is Fierce on stage and Beyoncé in real life. I tried to understand these two sides with my own perception of both aspects, the duality between being a woman and a warrior. It's very elaborate; feminine, free, warrior, fierce.
[Dance taught me] that through discipline and hard work, you can develop the ability to be in a different dimension within seconds. You can be vomiting, you can detest who you are, detest the world, detest every single thing, and the next moment you are in the light and you glow. You forget everything, and you are just flying. When you're onstage, you are someone else.
Beyoncé is very conscious of this. She said to me, 'I'm another person when I'm onstage.' And I said, 'Oh yes, you are! You are an animal when you are onstage. You are a stage animal.'
As a creative adviser for the tour, it's my responsibility to make her vision come true; the sense of mise-en-scène or using everything we get, like technology, lights, sets and costumes in order to sublimate the emotions and energy that we share, and share it with others, a lot of dramatisation and metamorphosis on stage. Some very strong effects have been inspired directly by Beyoncé, and only she could make [them] happen on stage. 
Image attribution: Clip from Diva – Beyoncé (I am… World Tour) 2009.
Sources wwd.com, vogue.com, covermg.com, hollywoodreporter.com, amareps.com, sony.com, elle.com.